Petra Hrašćanec
Together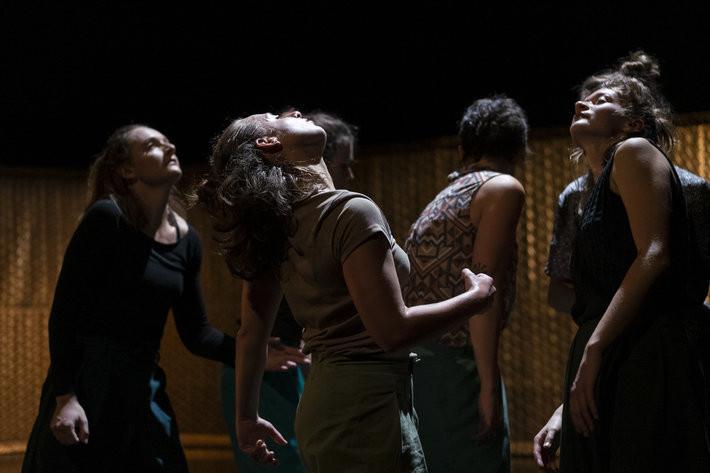 Duration: 40 min
The performance is followed by a conversation with the creators.
Choreography: Petra Hrašćanec
In cooperation with dancers: Una Štalcar Furač, Ema Crnić, Tesa Ljubić, Ariana Prpić, Lara Frgačić, Valentina Miloš
Music: Alen and Nenad Sinkauz
Set and costume design: Zdravka Ivandija Kirigin
Light design: Marino Frankola
Production: Art Organization 21:21
In co-production with Pan-Adria: EN-KNAP Productions, HKD – Croatian Cultural Centre, KUD Moment, Slovenian National Theatre Nova Gorica, Zagreb Dance Centre, Mediterranean Dance Centre, Artisti Associati
Co-funded by Ministry of Culture of the Republic of Slovenia, Ministry of Public Administration of the Republic of Slovenia within the platform Independent, Departments of Culture of City of Ljubljana, City of Maribor, and City of Nova Gorica, Office for Culture of the City of Zagreb, Ministry of Culture of the Republic of Croatia, Ministry of Cultural Heritage and Activities and Tourism of the Italian Republic, Friuli Venezia Giulia Region, City of Gorizia, Venezia Giulia Chamber of Commerce and Istrian Region.
The performance presents six young dancers exploring the possibility of creating a three-dimensional pattern on stage. The solid stage structure provides a framework creating diverse authorial profiles of young performers and their stage coexistence through movement. New project of the Croatian choreographer, dancer, and pedagogue Petra Hrašćanec was selected by the international Pan-Adria network among 27 registered projects from Slovenia, Croatia, and Friuli-Venezia Giulia. The network provides production support, artist residencies, and guest appearances in partnering institutions.
Petra Hrašćanec has been working of performing arts for many years as a dancer, choreographer, and pedagogue. Her primary field is contemporary dance, her works are characterized by the exploration of the body as a reality of performance through various media. In addition to her own work, she also acts as an external member of the Norwegian WEE COMPANY of Francesco Scavetta. She actualises her work through the Art organization 21:21 or the partnering organization DE FACTO in cooperation with many domestic institutions (Theatre &TD in Zagreb, Youth Theatre Zagreb, Pogon Jedinstvo, Zagreb Dance Centre). At the Dance Department of the Academy of Dramatic Arts in Zagreb, he leads the course and subject of Contemporary Dance Technique.