Alja Petric, Vasko Atanasovski
Sound of the moment
sound/vocal/music performance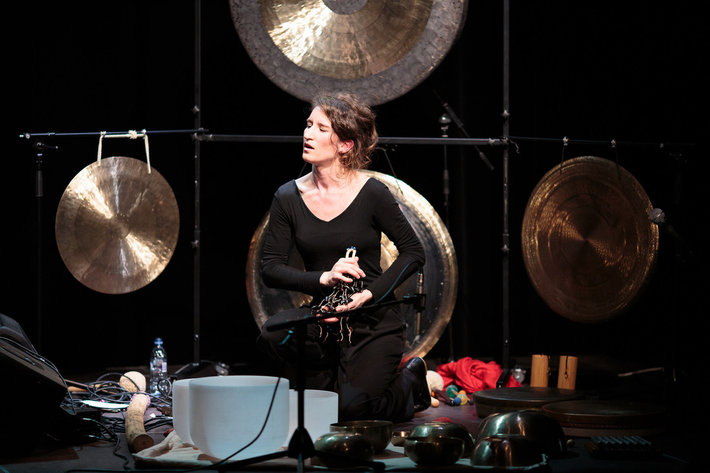 Alja Petric and Vasko Atanasovski, 2017
Duration: 50 min
Sound of the moment is a unique experimental performance of improvised music, which is created spontaneously in a dialogue between two musicians. The core of the expression is a composition composed of sound textures, which the musicians string together and spontaneously improvisational intertwine. The musical ambience is based on the subtlety of sound and melodies, which in their constellation traverse from minimalist musical elements to abstract uproarious climaxes created with the sound of gongs, drums, and atonal miniatures, and in response to harmoniously structured melodic lines.
The musicians uniquely intertwine classical instruments (saxophones, flutes, voice) from the modern European music space, and traditional sounds of other cultures (gongs, singing bowls, rattles, bells), which are more often seen in meditative ambient ensembles.
After graduating in architecture (2012), Alja Petric, a singer born in Prekmurje, focused her research on the art of music, voice, and sound frequencies and their impact on humans. She completed jazz singing and teaching at the Carinthian Regional Conservatory in Klagenfurt, is self-employed in culture, and a singing mentor at the B.A.S.E. music school in Ljubljana. Her musical research ranges from the interpretation of diverse cultures' musical traditions to projects of setting poetry into music, to jazz, and contemporary experimental sound performances. Since January 2018 she has actively collaborated with composer, singer, and producer JUNEsHELEN on the project Sound Landscapes – Songs & Arias. She seeks inspiration in her artistic creation through the soundscapes of nature and everyday urban life in the capital. This spatial duality has a wide range of synergies: from collaboration, intertwining, and transgression, to oppositions and conflict situations. In this context, she explores the origin and existence of sound, words and melodies and the function of their message.
Musician and composer Vasko Atanasovski is best known for his trans-genre collaborations with world-famous jazz, rock, classical, and traditional musicians, and his masterful approach to all musical styles. He has traveled with his music to various countries from India, China, Argentina, USA, and Europe, where he has performed in many great venues, such as: Ljubljana Festival, Town Hall New York, Athens Jazz Festival, International Jazz Festival Münster, Sava Center Belgrade, Sally Can't Dance festival Beijing, Mood Indigo Bombay, Niceto (Buenos Aires) and others. He has also collaborated with musicians such as Vlatko Stefanovski, Marc Ribot, Hindi Zahra, Living Color, Gibonni, Tommy Emmanuel and many others. Vasko is the founder of many musical ensembles and the composer for chamber, orchestral, and choral ensembles, as well as for puppet, dance, and theater performances. So far, he has released 15 albums, the most recent one under the world-renowned MoonJune Records, and has received numerous positive international reviews.