Beno Novak
Matter
dance performance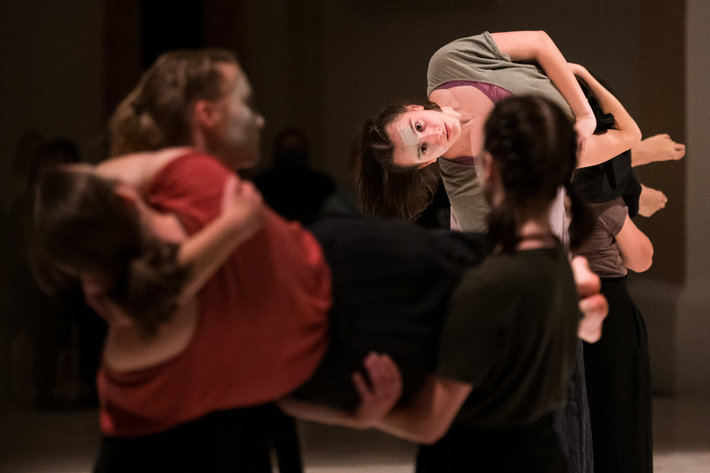 Plesna izba Maribor, 2020
Duration: 38 min
Concept and choreography: Beno Novak
Dancers and performers: Anja Spasovski, Nadja Spasovski, Vanja Kolanovič, Vita Trantura, Nika Zidar, Jasha Robnik
Music editing and processing Beno Novak
Production: Plesna izba Maribor
The idea of me was born in the minds of the ancient Greeks. To them, I was the air breathed by the Gods. Aristotle named me an immutable and indestructible element that fills up the space. Rene Descartes believed that I was the one carrying the celestial bodies around the sun. There have been those who do not believe in my existence. Those who do, think that I am an invisible, ubiquitous medium, through which the light spreads.
Albert Einstein said that the denial of my presence ultimately supports the assumption that empty space has no physical properties. Although many have tried to prove my existence, no one has succeeded so far.
I am an unknown substance made up of particles that are constantly moving and assembling into different structures. My shape and my condition are constantly changing. I am eternal, indestructible, and innumerable.
Some of you know me as … the element.
Beno Novak is a professional contemporary dancer and co-founder of KUD Qulenium Ljubljana. He graduated from Salzburg Dance Academy in contemporary dance and performance in 2016 and later upgraded his knowledge at dance academy Tisch Dance (New York University) and dance school The Place (London). In 2017 and 2018, he danced with Gary Clark in the show Coal, which received numerous awards such as the UK Theater Award, Critics' Circle National Dance Award, and others, and has since collaborated with international companies and choreographers such as Jason Mabana, James Wilton, Ricardo Ambrozio, and others.
He has been teaching his own Zero Space technique in various institutions and festivals for several years, while he is also a professor of dance at Dance Academy Ljubljana and contemporary dance program at Performact Portugal. He has worked as an artist within international dance associations for many years, mostly within his Qulenium society, wherein his work is based on collaborations with artists from all over the world.
In addition to dancing and choreographing, he has actively participated in the organization and implementation of the Kaleidoscope Kranj Festival and the Kaleidoscope Ljubljana Festival, as well as the Summer Intensive Portugal Summer Dance Festival.