Jaskaran Anand
Hibernating Further
interdisciplinary performance(s) with sound-video installation, dance, interactivity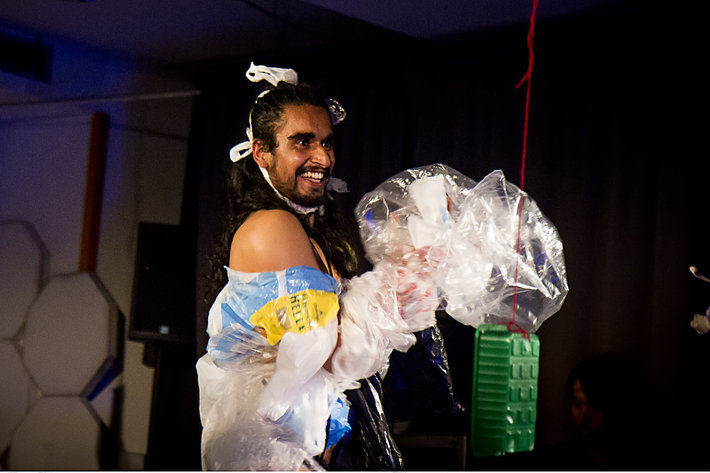 Jaskaran Anand, 2019
Duration: 45 min
Idea, concept, director, performing-artist, producer, stage design, video dramaturge-editor, text: Jaskaran Anand Composer and sound artist: Stevie J. Sutanto
Accompanying sound performer in Maribor: Maja Lamovšek
Costume: Afra Sonmez with Jaskaran Anand
Documentation video: Yazdan Zand, Stefan Fuchs
In cooperation with dorftv Linz and Interface Cultures Departement Art University Linz
Supported by Stadt Linz Impulse 2019 and Art University Linz.
The transdisciplinary performance connects around "plastic" the current environmental crisis with the concept of plasticity of the human psyche: how different information shape the human mind and psychology.
Just like the plastic, the performer, who wears a plastic dress, takes on different forms. At the beginning, the audience interacts with different plastic materials. This creates a sound composition element; others are created by the performer's movements in plastic as well as by the feedback loops between recorded and live sound sequences. Two video works are a part of the performance which focus on the use of and alternatives to plastic in the context of capitalism, media consumption, and political power models. Jaskaran emphasizes the need of becoming aware of one's own actions and thoughts while paying attention to those forms in the world that have the power to influence them. He suggests that, while finding a solution to the 'plastic problem', we also need to re-direct unnecessary information entering our mind(s).
The author, Jaskaran Anand, was born in 1992 in New Delhi, India, and has lived in Linz since 2015. His works are transdisciplinary interventions based on intersections between performative art, scientific and art-based research, and participatory-collaborative artistic practices: using choreography and dance as a method of communication in and beyond the traditional art and public spaces. He likes crossing boundaries in different depths of artistic media with a focus on the human body acting as an interface. He is an internationally acclaimed artist, who works as a performance-maker-artist, initiator, dancer-choreographer, pedagogue, researcher, and video dramaturge-editor. He is the co-founder and chairperson of the art, cultural and research organisation Trivium based in Linz, which focuses on unravelling the cultural intersectionality present in human bodies. His works have been presented across Austria, New Zealand, and India in various media. He has performed, choreographed, and taught across Europe and India since 2009.