Thomas Noone
After the party
solo for two, dance-puppetry performance (12+)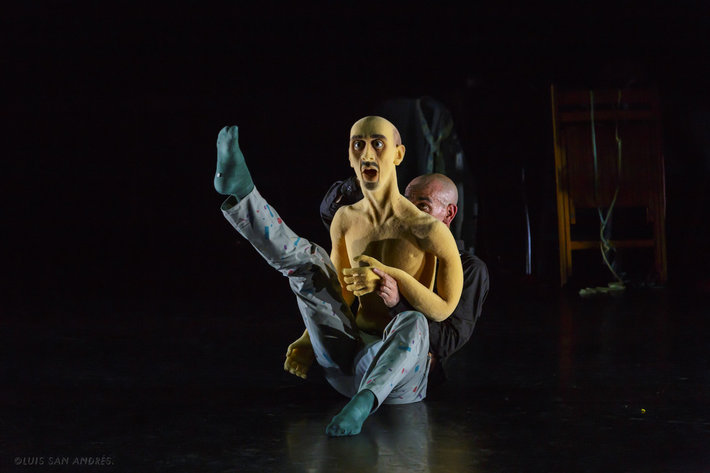 Thomas Noone Dance, ICEC – Generalitat de Catalunya and SAT! ! Theatre Barcelona, 2020
In collaboration with the Summer Puppet Pier (LGM)
Duration: 60 min
Choreography, direction, and dancer: Thomas Noone
Choreographic assistants: Nuria Martinez, Alba Barral
Music: Jim Pinchen
Puppet: André Mello
Light design: Jimmy Strom
Costume: Marc Udina
Camera: Anou Audiovisuals
Executive Production - Sara Esteller Production: Thomas Noone Dance in collaboration with the ICEC – Generalitat de Catalunya and the SAT! teatre Barcelona
Performance is supported by INAEM - National Institute of Performing Arts and Music, Ministry of Culture and Sports, Spain
A man collapsed in the chair with a sensory overload from a myriad of conversations that now merge into one. He tries to sift what was important from what was frivolous, remembering the good and reinventing the bad.
The unexpected appearance of his alter ego initiates a dialogue both intense and absurd, truths, lies and dreams all expressed through movement and a somewhat rebellious puppet.
Thomas Noone is a choreographer creating contemporary dance pieces with a signature physical and gestural style. He works with his own Barcelona based company founded in 2001 residing in the SAT! theatre as well as creating as a freelance guest choreographer internationally. As an independent guest choreographer at the international level, he has collaborated with many contemporary ballet ensembles (Norrdans Sweden, Ballet du Rhin France, Munster Tanzteater Germany, National Ballet Chile, etc.) He is also artistic director of the Dansat! festival in the SAT! since 2006 and organises activities including international collaborations (Grec, Aerowaves), inclusive dance initiatives, and actions focused on building support for local dance companies. In 2011 he was awarded Barcelona's city prize for Dance.